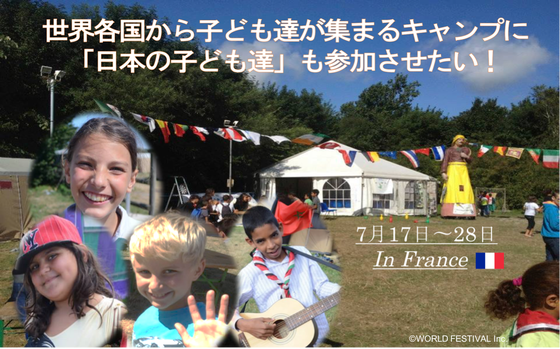 This year's "Copain du Monde (The world's fellowship)", held by the entirety of France every summer, by the humanitarian assistance NGO "Secours Populaire Francais (Bonding of Citizens France)", headquartered in Paris, France, will be planned and orchestrated by WORLD FESTIVAL Inc.! Children and adults of various countries, this July, will join us in creating works of art, and three Japanese children are planned to attend the event.
On this occasion, the NPO corporation Medaka no Gakkou (School of Medaka) will serve as the central organization, cooperating with us in selecting the children to take to France, and raising the costs through crowdfunding to enable the experience!
Thoughts and developments, details can be viewed at the crowdfunding project page. We ask for your assistance and cooperation!
※This project is in cooperation with Scours Populaire Francais's Japanese branch "Bonding of Citizens Japon" as the center, with NPO corporation Medaka no Gakkou, aimed at creating a place in Tokyo for children to live a society within where "they can shine individually", and the life-story media another life. which has cooperated in creating articles on projects in conjunction with WORLD FESTIVAL.
NPO Corporation Bonding of Citizens Japon: http://www.shiminnokizunaj.org/
NPO Corporation Medaka no Gakkou: http://medakagakkou.com/
another life.: https://an-life.jp/