On Nov. 28th, 7:30 PM to 9:00 PM, Saturday, at the Kichijoji Adult Learning Arena "BeYond Labo", our representative and president Yuki Kondo stands at the podium!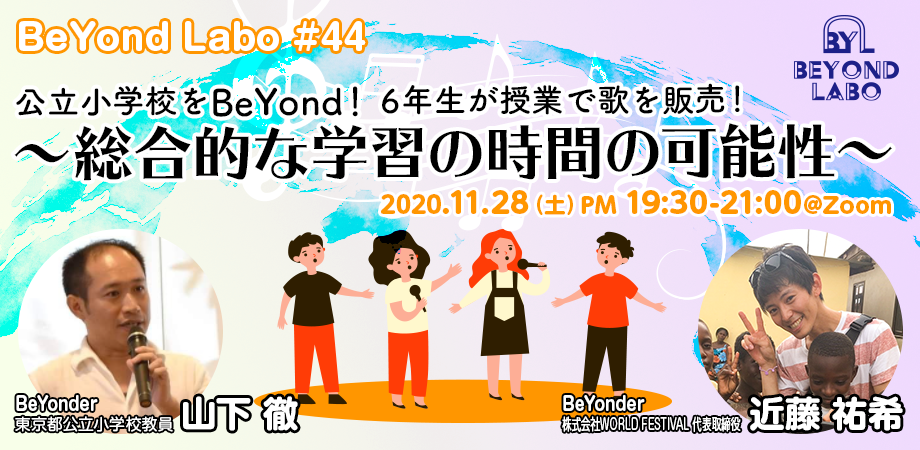 Inviting various guests (BeYonder), in a Kichijoji-based event aimed at educating adults, "BeYond Labo", on Nov. 28th, Saturday, our representative and president Yuki Kondo will stand at the podium in an online event from 7:30 PM.
He will speak about the new project involving the 6-graders of Tokyo North District Fukuro Elementary School, class 1 and 2, 70 participants, of how they interacted with the children of Nepal and Jordan and created a song, produced by WORLD FESTIVAL LABEL of WORLD FESTIVAL.
During the event, teacher Mr. Yamashita and the graduates of Fukuro Elementary School will also participate.
We hope to convey the thoughts and backgrounds of each and every individual who participated, to those who will join the event.

The detailed article of the project, background story and song can be found here
◼︎FUKUROSHO "With You / Beyond"
https://worldfestivalinc.com/label/fukurosho/
◼︎Background story article
https://worldfestivalinc.com/stories/fukurosho/

For the details of the event, please view from here. We encourage many to attend.

---
BeYond Labo # 44

"BeYond" Public Elementary School! 6th graders sells songs from the class to the world!
〜Possibility of Comprehensive Study Time〜

Date and time:Nov. 28th 2020, 7:30 PM to 9:00 PM, Saturday
Place:Online Meeting Room "Zoom"
Apply URL:https://beyond44.peatix.com/


---
Educating adults『BeYond Labo』:https://beyondlabo.com/